A new incredible study tool!
The Keys to the Bible - Explore its surface Research its depth
The Keys to the Bible The best Bible program ever made!
Amazing study tool!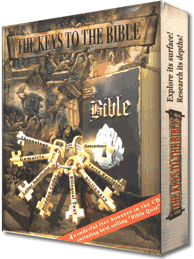 Bilingual Bible text in parallel columns - User specified menu language, English or Hebrew * List of all Biblical names with their translation * The 613 Commandments of the Torah * Bible Codes program included * Many more features...

Click image for more details!

CD-ROM - $59.95
---
EASILY SEARCH THE BIBLE, READ COMMENTARIES
TANACH PLUS CD-ROM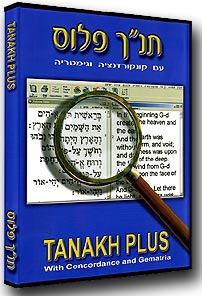 Bilingual Hebrew English Bible with complete concordance. Transliteration maker (transforms any English word or name to Hebrew characters!)

Click image for details

CD-ROM - $39.95
---
EXPAND YOU KNOWLEDGE...
SECRETS OF THE HEBREW BIBLE - A complete seminar with Uri Harel, Director of the Center for Biblical Hebrew. Amazing, informative, thought provoking teaching that takes you deep below the surface!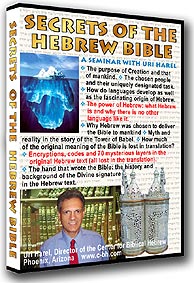 Click the images for details
2 CDs - Only $29.95
Reg. 29.95
GET THE ULTIMATE SOURCE OF JEWISH WISDOM AND AUTHORITY ...

THE COMPLETE TALMUD ON CD-ROM

The best way to understand the Jewish life

This incredible study tool brings the world of the Talmud as close as your PC or Mac. Featuring 18 volumes in Hebrew and English, and the entire Tanach (Bible) in both languages and much more. Search, copy and paste in your documents.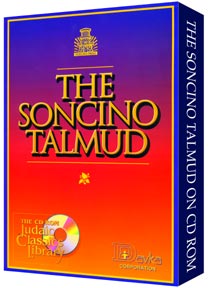 What is the Talmud?
It is the collection of ancient Rabbinic writings consisting of the Mishnah and the Gemara,
constituting the basis of religious authority for traditional Judaism.
This amazing treasure of wisdom is the basis for the Jewish religion
Click on the image for more details
CD-ROMs - $129.00
---
Introducing the encyclopedia of Biblical Personalities...
WHO IS WHO IN THE BIBLE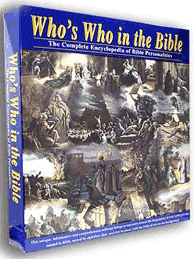 Learn about the life of the people in the Bible from both the Biblical and the human perspectives.
Biographies of the over 3,000 personalities named in the Bible, with explanation of their names and
century when they lived...
Click on the image for more details!
CD-ROM - $39.95
---
Israel's best product of the year in 2015!
HEBREW NARRATED BIBLE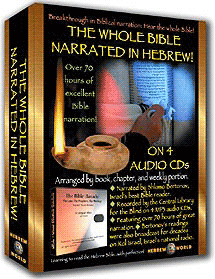 For Study, research, joy and meditation. On 4 audio CDs (MP3 format)! The Law, The Prophets, The Writings. (Torah, Neveeim, Ktuvim).
The best Hebrew narration ever made of Hebrew Scriptures recorded with excellent intonation, diction, and accent. Narrated by Shlomo Bertonov. His Bible readings were broadcast on Kol Israel, Israel's Broadcast Service, for three decades. Click on the image for more details and sound samples!

4 audio CD's - $69.95
---
PRACTICE READING and ENJOY HEBREW PSALMS 2 CDs SET
READING THE BIBLE IN HEBREW
and PSALMS FAVORITES MEDITATION CDs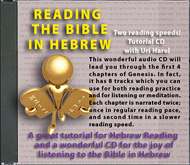 Reading Hebrew can be fun! This wonderful audio CD will lead you through the first 4 chapters of Genesis. In fact, it has 8 tracks which you can use for both reading practice and for listening or meditation. Each
chapter is narrated twice; once in regular reading pace, and second time in a slow reading pace.
This CD includes 22 full chapters of favorite Psalms, beautifully narrated by Uri Harel, the founder and director of the Center for Biblical Hebrew. His superb narration and the crystal clear sound quality make theses 2 audio CD the best Biblical narration you've ever heard.

Click on the images for more details and sound samples!

Audio CDs - each $16.95