Top of the line Hebrew Bible learning book! -- Finally! - Hebrew Scriptures at ease!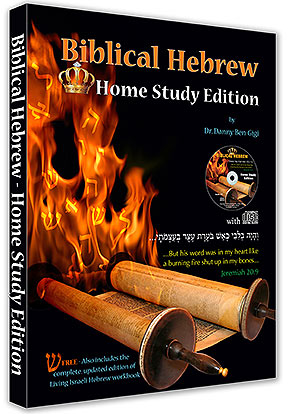 Click image for details, page samples and to order this item
What is also special in this book:
Biblical Hebrew - An audio supported self-study tutorial with vowels on every Hebrew word, enlightening color charts, and Scriptural examples for every grammar rule!
Biblical Hebrew Home Study Edition also includes another book.. FREE
Includes FREE, a full color complete, updated and extended edition of Living Israeli Hebrew book (14 additional essential pages that go far beyond the older B&W edition). Now also includes the most important Hebrew prayers.
LISTEN TO THE STORY OF YESHUA OF GALIL
The Jewish New Testament on 2 MP3 CDs or 20 Audio CDs
Scholars and researchers have long realized that a vital link to understanding key concepts and passages in the New Testament directly relate to issues of first-century Jewish customs and manners, dress, thought and lifestyle of the early New Testament church. Now, this CDs version of the best-selling new translation freshly renders the original Greek into enjoyable modem English, while dramatizing the Jewish roots and flavor of New Testament times by giving the names of people and places, events and concepts, in the original spoken Hebrew.
Freshly rendered from the Greek into enjoyable modern English by a Messianic Jew (a Jew who honors Yeshua as the Messiah of Israel), the Jewish New Testament challenges Jews to understand that Yeshua is a friend to every Jewish heart and the New Testament is a Jewish book filled with truths to be accepted and acted upon.
Imagine yourself walking through Eretz-Israel (the land of Israel) with Yeshua (Jesus) and his talmidim (disciples)!
Recorded and produced entirely in Jerusalem Narrated by Jonathan Settel - See product below
Now, you can read the Bible too, even if you can't read the Greek or Hebrew!


The New Testament with the English and the Transliterated Greek and Hebrew,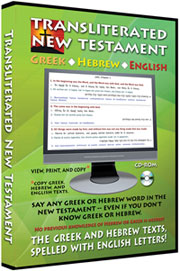 and the Old Testament with the English and the phonetic Hebrew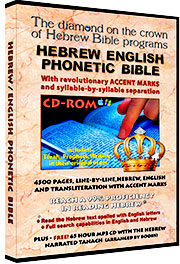 Click images for details about all of our Transliterated Bibles (These are not included in the Roots Bundle)
Each Bible - Only $59.95