A Jewish prayer tutorial for individual home study .
FIRST STEPS IN HEBREW PRAYER
Top Seller - over 50,000 sold!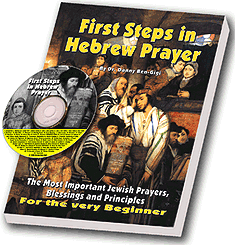 Traditional in Content - Modern in Appearance!
Practice prayers in the Holy Tongue. The text conforms to that of a traditional Siddur, but every page is titled and organized in such a way that you can find any prayer or blessing within seconds. There are 60 prayer tracks on the CD, recorded with the wonderful, rich voice of Rabbi Tzvi Cooperman. These tracks
include narration and well known tunes of the various prayers.
Learn Jewish prayer for beginners with the friendliest prayer tutorial. Hear every prayer and blessing on the enclosed CD. See text in English, Hebrew and transliteration...
Click image for details, sound samples, screen shots and to order this item
BOOK & CD - $39.95
---
PRAY HEBREW PSALMS WITHIN 2 MINUTES!
PSALMS OF THE HEART
The Intimate Touch of Hebrew Psalms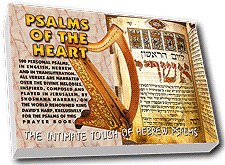 Now, you too can pray the psalms of King David, saying the very words he wrote, spoke and sang in Leshon Hakodesh (the Holy tongue) - Hebrew. While you listen to the words, whether to practice, meditate or to solemnly pray, you'll also hear the heavenly music of King David's harp. These melodies were played in Jerusalem on the original, very first reproduction in 2000 years of the biblical 22-string harp. Psalms of the Heart Music-CD also includes selected verses accompanied by famous Psalm melodies, as they were sung for many generations, and beautiful psalm songs performed in Israel in the last 40 years.

Click image for details, sound samples, screen shots and to order this item
BOOK & CD - $34.95
---
HEAR THE WHOLE BIBLE NARRATED IN HEBREW...
Over 70 hours of superb narration!
For study or meditation of the WORD in its Original Divine Tongue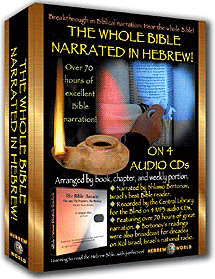 On 4 audio CDs (MP3 format)! The Law, The Prophets, The Writings. (Torah, Neveeim, Ktuvim).
The best Hebrew narration ever made of Hebrew Scriptures recorded with excellent intonation, diction, and accent. Narrated by Shlomo Bertonov. His Bible readings were broadcast on Kol Israel, Israel's Broadcast Service, for three decades.
Click image for details, sound samples, screen shots and to order this item
4 audio CD's - $69.95