Many books and articles have been written on the fascinating subject of hidden codes in the Torah. Developed in Israel, Bible Codes 2000 lets you be the judge, and try out your own code searching, using the latest in automatic search technology.
---
NEW FEATURES!
* Automatic English-Hebrew/ Hebrew-English translation allows searching of Hebrew text without any knowledge of Hebrew.
* Enter any English word or name,and the program will translate it or transliterate it to Hebrew, and search if it is encoded in the Bible.
* Includes Bilingual dictionary, a list of 2000 Biblical names, and a bilingual list of over 3000 first names.
---

Click here to see sample graphics and/or screen shots!

---

Windows CD
System Requirements:
PC with Windows 95/98/ME/NT/2000/XP and newer, 16MB RAM, CD-ROM Drive, 800 x 600 display, 100 MB free hard disk space
Unlike similar programs,
Bible Codes 2000 is written in Israel, the land of the Book and the land where the Bible code was discovered.
You don't have to know Hebrew and yet, your searches are conducted in Hebrew.
Using this program is easy and straightforward.
You see immediate results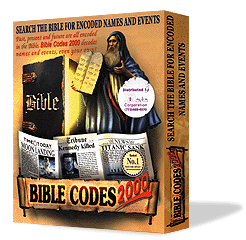 Click on the image below to see a large screen shot!